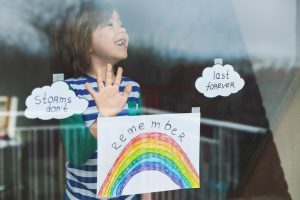 We've countered COVID-19's assault on our physical health by social distancing and working and educating our children from home. But what can, and should, we be doing to safeguard our mental health?
World health experts who have argued for flattening the COVID-19 curve are now warning of a second coronavirus wave of depression, anxiety and emotional exhaustion that could last long after the infectious disease threat has waned.
"It's important to take care of yourself after any traumatic event," says BJ Weller, Director of Canyons District's Responsive Services Department, which oversees counseling and social-emotional supports in schools. "But this health crisis has been particularly worrisome from a mental wellness perspective, because the steps we've needed to take to respond can make it harder to cope emotionally." Social distancing has left many of us socially isolated and economically vulnerable. We are grieving the loss of loved ones and important rituals, from weddings to graduation ceremonies, even as we lose connection with family and friends, the very people to whom we turn to mourn our losses.
But students and parents can take comfort knowing they're not alone, Weller says. "We're all going through this together, and help is available." Throughout the soft closure of Utah's schools, CSD social workers, psychologists and counselors have been proactively checking-in with students by email or phone. As the growing need for mental health supports has become apparent, the Department of Responsive Services is now launching an online behavioral supports request form that parents can easily access from home.
"Within 24 hours, we can connect parents and students with one of our counseling professionals, or refer them to one of our mental health partners. We also have funds available to help families pay for behavioral care," Weller says. "There is no shortage of resources available. More often, the challenge is recognizing the signs of trauma and giving yourself permission to seek help."
Trauma reactions are normal reactions to extremely abnormal circumstances. Coping with an illness in the family is traumatic, and so is losing a job or the ability to physically attend school. People respond in different ways, Weller says. "I always use the example of the egg and potato. Expose both to the trauma of boiling water and what happens? One hardens and the other softens inside. These reactions are different but both are perfectly natural responses to stress."
However you respond, go easy on yourself. Give yourself permission to cry, get angry, or take time to exercise, read a book, or call someone you trust. Do whatever you need to take care of yourself and the ones you love.
It's important for parents to validate their children's feelings. Routines and structure can help, and in times like these, it's best to focus on what you can control, experts say. Start a gratitude journal, or find a way to serve others in need.
Children are resilient, but Weller recommends seeking professional help if your child is having trouble performing regular tasks, isolating from the family, sinking into a depression, or feeling suicidal.
When in doubt, reach out to a counselor to talk through possible solutions. Simply complete this form, and a CSD representative will respond within 24 hours, Monday through Friday between 7 a.m. and 5 p.m. Here are more helpful resources:
Wellness Resources: CSD's Parent Connections Portal
Crisis Line: 1-800-273-TALK.
Warm Line: 801-587-1055 (for callers not in crisis, but seeking support, engagement and encouragement seven days a week between 8 a.m. to 11 p.m.).