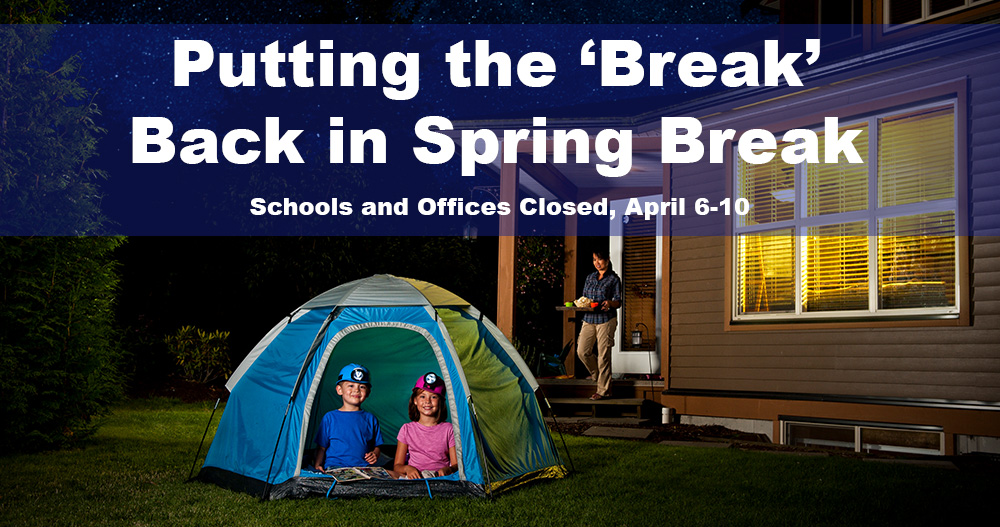 That beach vacation or camping trip may have to wait. But Utah's stay-at-home directive doesn't mean we can't enjoy a little downtime.
In support of continued efforts to flatten the COVID-19 curve, Canyons District is closing all school buildings and the District Office for Spring Recess, April 6-10. Students will have a week-long break from the daily demands of learning, as they would normally this time of year. We'll also be pausing the curbside delivery of free lunch and breakfast.
"Families are shouldering a lot right now. We know many parents were counting on a break from the stresses of monitoring their children's online school work while juggling jobs and household duties," says Canyons Superintendent Dr. Jim Briscoe. "Employees who have been putting in extra hours to disinfect school buildings, package sack lunches, check out computing devices and build at-home learning modules, could also use this time to rest, reenergize and reconnect with families."
Teachers will return to overseeing their virtual classrooms Monday, April 13, at which time distance learning and grab-and-go meals will resume.
To tide families over during the brief hiatus of meal service, Canyons has prepared a list of schools at neighboring districts that will be serving sack lunches during CSD's Spring Recess. Through a standing agreement, CSD students can obtain free meals at any one of the sites listed below.
While the grab-and-go meals served during the temporary dismissal are given at no charge to any student 18 years and younger, parents can apply for free- and reduced-price lunches for when students return to school on May 1. If financial circumstances have changed in your income or family size, and you would like to see if you qualify for free- or reduced-price school meals, please apply for school meals at schoollunchapp.com.  
We've also compiled resources for helping families and children cope with the social and economic disruptions caused by the coronavirus pandemic.
"We're so grateful for everyone's support as we adapt to changing times. This community's resilience and willingness to pull together to overcome obstacles never ceases to amaze me," Briscoe says. "Enjoy this time with your families. Have some fun, and find opportunities to stay active and laugh a little. We look forward to hearing about your adventures when we return from the break to resume online learning."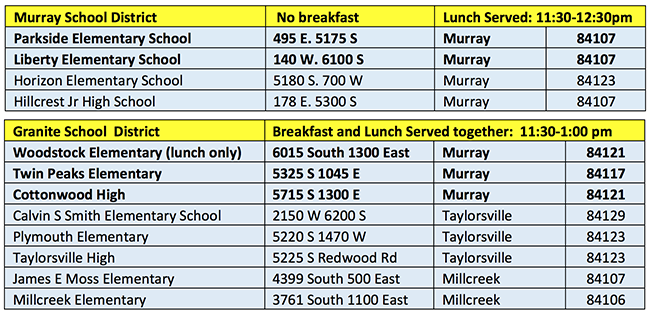 Spring Break Staycation

Utah's stay-at-home directive brings new meaning to the term "staycation," which is exactly how many families will be spending their Spring Recess. This is a great time to tidy up the house, do some gardening or home-improvement projects. There are actually plenty of affordable, family-friendly activities to keep kids busy for days. Here are just a few to enjoy from the comfort of your kitchen, porch or living room.
Host a Virtual Dinner Party
Set up a videoconferencing screen in your living room or kitchen, and invite your grandparents or friends to a virtual dinner party. Here are some great conversation-starters to get you started.
Nature Sound Walk
Take a walk through your neighborhood, lay in your backyard, or open your bedroom window and see how many sounds from nature you can identify. The Tracy Aviary in downtown Salt Lake has created this Animal Sounds Activity Booklet for elementary-aged children, which pairs with a Soundscape Animal Sounds video on the organization's Virtual Aviary Videos website.
Facebook Field Trip
Who can resist a tug-at-your-heartstrings video about hand-raising a baby colobus monkey, or behind-the-scenes glimpse of a pachyderm pedicure? The Hogle Zoo offers these, and many more, fascinating virtual snippets of zoo life through Facebook Field Trips.
Research Quest for Middle Schoolers
The Natural History Museum of the University of Utah is making its free, award-winning Research Quest science program available live and online to middle-school-aged students throughout Utah. The week of April 6 will be spent with Paleobotanist Dr. Mitchell Power and museum educator Isabel Perez-Vega, "who will take you and your child on an adventure through Utah's majestic Uinta Mountains" to explore four research questions about climate change and biodiversity. You can register for the online classes, which will run Monday through Friday from 9:30 to 10:30 a.m., or check out archived lessons anytime.
Virtual Opera
Missing the performing arts? The Metropolitan Opera is making virtual performances available online.
Enroll in a MOOC
Prestigious universities, such as Yale and Harvard, offer a host of online courses for free. High school students yearning for a taste of college life can find a list of these MOOCs, or Massive Open Online Courses, at the portal, Class Central. 
Visit the Library
The Salt Lake County Library has a host of resources available online, from e-books and music and videos to a Kid Zone and Teen Space filled with homework tutorials and fun activities.
Stay Fit
Canyons District's recess partner, Playworks has lots of ideas for staying active. The anti-bullying organization streams a live, virtual recess through their Facebook page each weekday at 10 a.m., noon, and 2 p.m. Mount Time. They've also created this template for keeping a fitness and wellness journal. Or simply carve some time for taking a walk or going on a hike with the family.